Covid DYI Project: New Computer Desk
With the pandemic in full swing, I needed a project to keep me busy. And since I had been working from home since March, I became increasingly aware that my little 4 ft long desk was insufficient for my needs. I had wanted a much larger desk for some time and had been eyeballing the Ikea hack of the utilizing two ALEX drawers supporting a 74″ long KARLBY countertop. This is assembly is relatively popular amongst Ikea enthusiasts. The cost was well within budget, but I would have had to wait nearly two months to see my order due to the pandemic. So, back to the drawing board.
After some research, I decided to purchase a 74″x 25″ birch butcher block countertop and two 28″x24″ cast iron legs to support the weight. I finished the butcher block in Danish oil in a series of three coats while burnishing the wood between each coat with super fine steel wool. The wood was then sealed with two coats of paste finishing wax and then buffed smooth. I didn't have any saw horses, so I had to cover and utilize our dining room table as a workspace.
Next, Rand helped me mount the legs and cable management baskets that I purchased as well.
Lastly, I added an RGB LED by Govee strip to the bottom of the desk, which turned out to be an utter failure. They started turning on randomly just days after they were attached to the desk. I replaced them with a strip by Daybetter a week later.
While the Daybetter control box does not have a built in microphone, I can achieve a similar effect from turning on the microphone on my phone at my desk, which will pick up music through the app. This is not a deal-breaker since this is a feature I rarely use. It just added to the Ooooo-factor.
Overall, I'm extremely happy with the results. Now, I have enough space to accommodate my 32″ monitor and enough surface area to work comfortably without feeling cramped. The legs are rated to support up to 300 lbs and the whole assembly is sturdy. Plus, the wood looks gorgeous.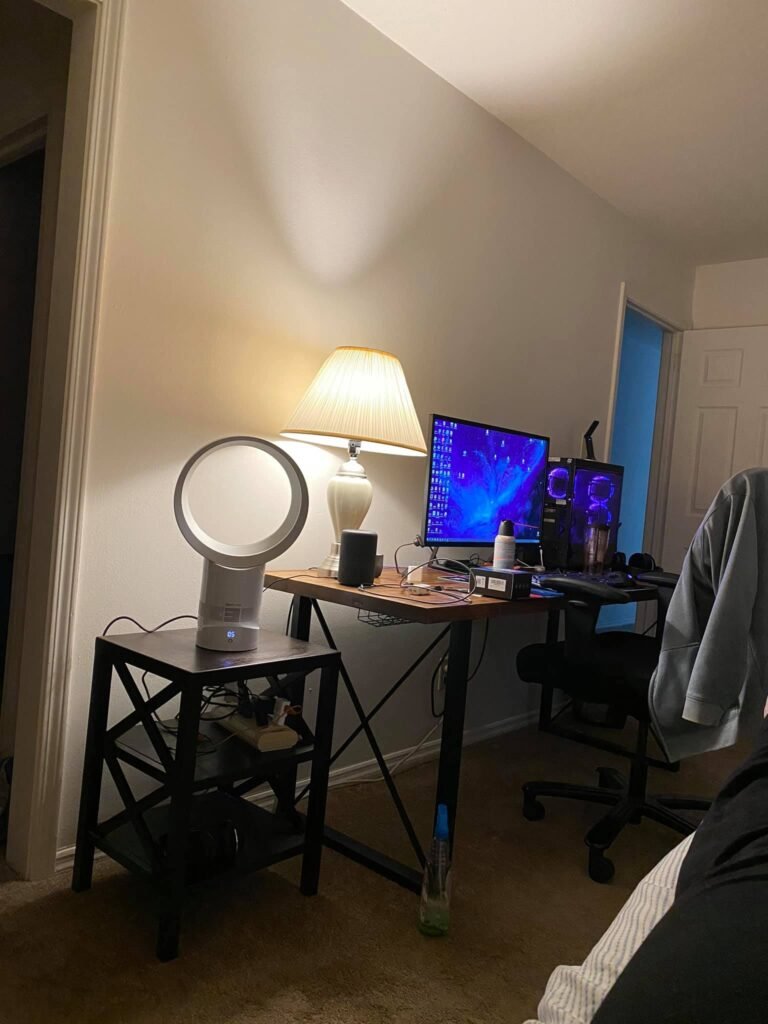 Materials Used
[Home Depot] Unfinished Birch 6 ft. L x 25 in. D x 1.5 in. T Butcher Block Countertop
[Home Depot] Watco 1 pt. Dark Walnut 350 VOC Danish Oil x 2
[Amazon] Metal Table Legs Cast Iron Table Legs 2 PCS (28" H x 24" W)
[Amazon] Under Desk Cable Management Tray
[Amazon] DAYBETTER LED Smart LED Lights 16.4ft
[Amazon] Minwax Paste Finishing Wax, 1-Pound, Special Dark
Other materials needed such as plastic drop cloth, grade #0000 steel wool, lint-free rags, wax applicator pads, gloves, etc…
The entire build plus other materials and tools cost approximately $450.00 after tax.